Moving Services in Houston, DFW, San Antonio
Moving companies seem like a dime a dozen. However, choosing a top-notch company is crucial to making any move go smoothly. At All Points of Texas, we're dedicated to providing exceptional moving services to all our customers, no matter where their new home is. Our movers have years of combined experience, and they've worked on numerous types of moves. Whether you've bought a house across the street or across the country, we're more than happy to help. With locations in Houston, San Antonio, Grand Prairie, and Fort Worth, we're glad to work with home and business owners in the areas. Browse our wide variety of services below.
Moving Locally? We Can Help
Many people assume local moves will be quick and easy, but that couldn't be further from the truth. Moving across the city is just as involved and strenuous as moving states. Fortunately, All Points of Texas is here to help. With locations in Houston, San Antonio, Grand Prairie, and Fort Worth, we're ready to streamline your local move. Our team can provide you with moving tips, as well as a checklist for preparing for your move.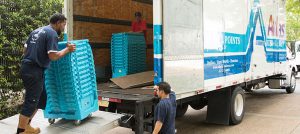 Movers for Government and Military Officials
At All Points of Texas, we understand that working in the government or military means lots of moving. Our team is proud to help so many military officials get settled in their new homes. We want to make life as stress-free for you as possible as you juggle your career and family. Look to us for all kinds of home moving services, whether you're active military or an average citizen!
Allow Us to Help You with Corporate Relocation
Homeowners aren't the only people who need moving services once in a while. If you're looking to move into a new business location, All Points of Texas is here for you. Our office movers will take care of all the difficulties related to corporate relocations. We're especially wary of your schedule, as we never want to disrupt your daily operations. Before even starting on your move, we'll create a plan that ensures all your files and furniture are transported within a convenient timeframe.
Your Trusted Long-Distance Moving Company
Are you moving across Texas or across the country? Whatever the case for you, our movers are here to help. Over the years, we've established ourselves as an outstanding long-distance moving company, and we're committed to using our expertise to assist you. Our team will make sure all your belongings are transported efficiently and safely, all by a guaranteed delivery date.
Experienced with International Moving
International moving is no easy task. After all, more details go into moving to another country than simply moving across town. Our movers will cover all the difficulties of an international move, including property protection measures, customs clearance, and efficient packing practices. We'll also include an itemized list of all your belongings!
We Offer Warehouse Moving
Warehouse moving requires lots of thought and pre-planning. Luckily, All Points of Texas has the expertise to take care of all the details on your behalf. We have warehouse moving down to a science—we'll create an airtight plan for your move and then ensure that all your inventory, equipment, and supplies end up at your new location.
Ask Us About Moving Specialty Products
Do you have a move that doesn't fit into one of the aforementioned categories? Never fear—our team is well-equipped to take on your specialized transportation needs. We've worked with a wide variety of organizations, helping them get their items from point A to point B. Our specialty movers have worked with all the following items:
Fine art
Trade show exhibits
Store fixtures
Electronics
Museum pieces
Get in Touch with Us to Learn More
Are you curious to learn more about our many moving services? Don't hesitate to give us a call! Our friendly team is always happy to learn more about your needs and provide a cost estimate for our services. We strive to stand out among the numerous moving companies, so we're committed to your 100% satisfaction. Contact us today and let us know how we can help make your life easier.